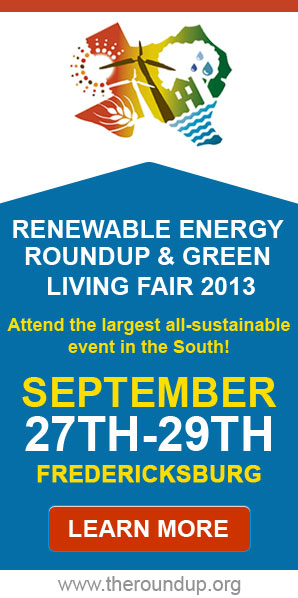 Do you want to be surrounded by the latest in green and renewable technology? Do you want to learn how you can essentially take your home off-grid? Come and join us at the 13th annual Renewable Energy Roundup in Fredericksburg, Texas from September 27th to 29th, 2013. We would love for you to come out this year and check out the Roundup. The organizers have really worked hard to bring in a bunch of new exhibitors and speakers in order to provide a tremendous amount of educational value for you.
Top Ten Reasons to Come Out to the Renewable Energy Roundup & Green Living Fair
It's the longest running Texas all green event that draws the public from across the state and beyond.
It attracts everyone from the genuinely curious to the hard-core serious.
It inspires the curious to get serious.
It helps the serious to replace rhetoric with reality.
It demonstrates that while the future may seem problem fraught, solutions are readily at hand.
It shows renewable energy and green living are going mainstream.
It showcases green living businesses and non-profits and rallies the public to the cause.
It shouts "renewable energy and green living are not going to just fade away."
It's the one stop shop for all things renewable, sustainable, efficient, clean, and green.
It's fun, it's fall, and hey – it's Fredericksburg!
IWS will be there, preaching #Rainwater!
IWS has been involved with the Roundup for 6 or so years. We absolutely love the atmosphere at the Roundup. As an attendee, you can learn about almost every type of green and renewable technology for your home. There will be solar, wind, geothermal, and rainwater companies represented there. In addition, there will be many home builders and related companies.
Read more →