From concept to commission, we can take care of all the details
We have been designing and installing rainwater collection systems for over a decade.  While there are consistent principles to rainwater harvesting, our systems have evolved through our knowledge, experience and the latest technology. We provide customized rainwater harvesting systems that are optimized for your collection area and gives you the most convenient method of using the rainwater to maximize your savings and reduce your environmental footprint.
Rainwater catchment systems aren't just glorified rain barrels. They can be sophisticated and complex systems. While everyone focuses on the rainwater tank or cistern, there are so many other parts and pieces of the system that require expertise and attention to detail in order to integrate the system with your house or property.  Our experience will help you create an efficient, safe, aesthetically fitting, and "as maintenance-free as possible" system.
We can design and install systems throughout Texas but our focus is in the central Texas area around Austin which includes Dripping Springs, Buda, Kyle, Wimberley, Blanco, Marble Falls, San Marcos, Round Rock, Georgetown,  and Pflugerville.
Trust the company that has seen it all…
Total Storage Volume Installed Since 2004:
6,863,163 Gallons
After contacting us, we will schedule an onsite consultation at your home with one of our experienced estimators. At the consultation, you will be able to discuss the following:
Intended use of the rainwater
Potential cistern locations and size options
Rainwater collection pipe routing
Usage options (pressurized vs. non-pressurized)
Much, much more
For residential rainwater systems, we typically "design" the system as we are formulating the estimate for your installation.  Our estimate documents include:
Multiple cistern options (if desired and space available)
Complete transparency of costs
Rainwater harvesting potential report
Cistern / system images
List of References
If the estimated cost and system design is right for you, then we will send you a contract for the installation work.  At this point, the following items will occur:
Schedule your project onto job board
Introduce you to our construction manager
System plan document created
Pre-construction meeting so everyone is on the same page
Document any requested changes
At this point, our experienced crew will install the system as planned. Then, we will provide a walk-through to discuss operation and maintenance needs. We pledge the following:
Clean up the jobsite each day
Our crew members will be well‐trained, courteous, and dress cleanly
Our crew will understand the system plan completely
Ensure that you are happy with the final product
We will be there for any future system needs
Don't Waste This Opportunity
We Are…
A locally owned and operated business since 2004
A contractor that is also a licensed engineering firm
A professional, detail oriented company that has a high internal standards for installation quality
A company with a healthy project schedule because customers need our solutions and love working with us
We Are NOT…
Gutter installers who happen to have installed a few rain barrels over the years
A guy with a truck and some tools
Landscapers who have "worked on a few projects where another contractor was installing the rainwater system" and now we know how to do it
A company that will drop everything because you want to add a rainwater harvesting system to your project at the last minute.  We respect our existing clients and the commitment that have given to us.
So what does a rainwater harvesting system cost?
Price Ranges
Since there are so many different variables (house design, access paths, personal aesthetics, existing obstacles, etc) and different ways (dry vs. wet systems, gravity supply vs. pressurized supply) to design a rainwater harvesting system, here are some typical price ranges of the different system types and sizes.  These price ranges apply to residential projects only.
We hope that this price information can assist you in deciding the type of system you can install for your budget. Our mission is to assist as many people in order to further the practice of rainwater harvesting but we also know that we can't be everywhere. By knowing these price ranges upfront, you can start the right conversation with us from the get-go. This helps make the best use of everybody's time.
We want your rainwater system to function for decades and we want it to be aesthetically pleasing.  Therefore, these price ranges reflect the installation standards that we can created for our company.  You could find a cheaper price from another contractor but it will probably use substandard products or be installed in a manner that may not provide a functioning system for years to come.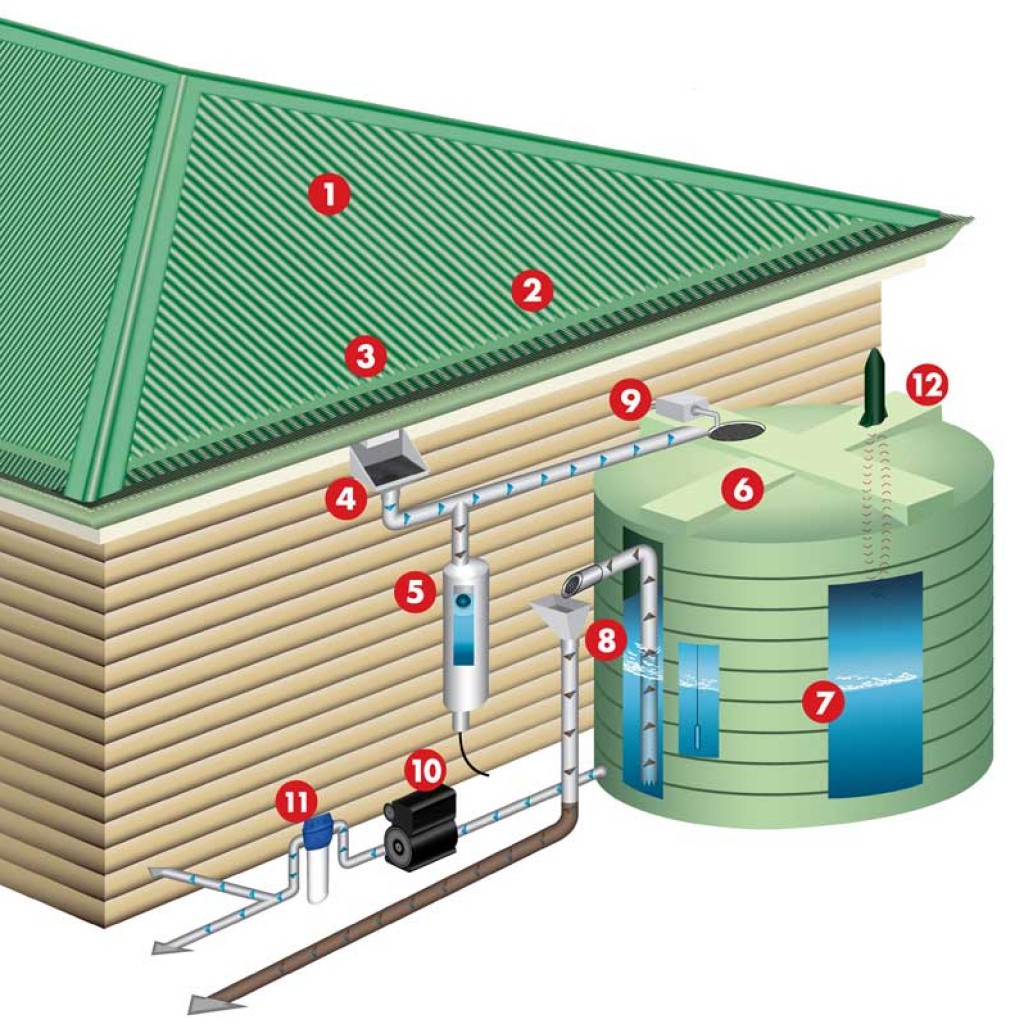 < $1,000
Rain Barrels and DIY Systems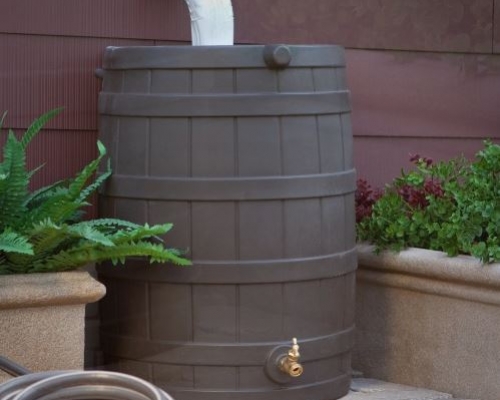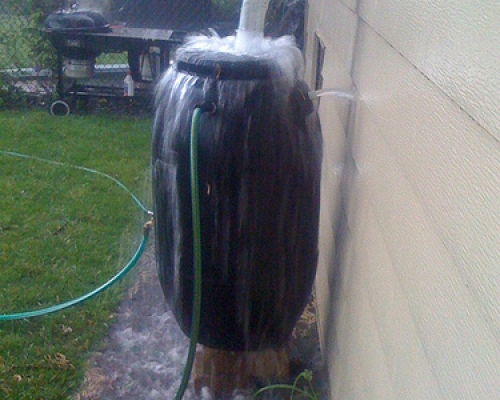 Rain barrels are a great start but… (hover mouse over image)
Price range options
Barrel and tank sizes ranging from 40 to 1,500 gallons
Mostly polyethylene tank choices
Price range for DIY installations
While we can supply you rainwater system components for your DIY effort, we do not stock rain barrels.  Click the rain barrel link below to purchase a rain barrel online from Hayneedle.com, which has the best selection of a variety of rain barrels.
$1,000 to $4,500
Raincache KIT and Raincache BUILD Systems
Rainwater System Kit and Installation Packages that include:
Cisterns ranging from 500 gallons to 2,500 gallons
Polyethylene and Galvanized Metal cistern options
Delivery and/or installation of cistern
Single downspout connection with Leaf Eater screening component (BUILD)
4″ first-flush diverter
Overflow pipe with overflow flap
Water level indicator
Outlet hose bibb
Decomposed granite pad with landscape metal edging border (BUILD)
$3,500 to $6,500
Small to Large Irrigation (Non-Pressurized) & Small Irrigation (Pressurized)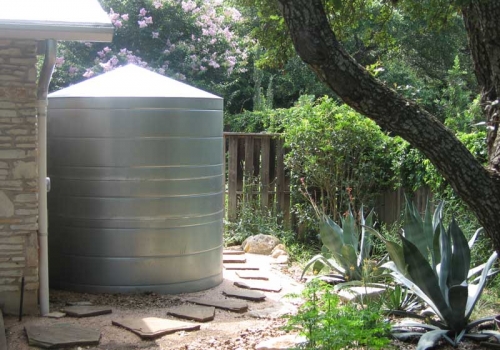 System Attributes
Typical cistern sizes: 1000 gallons to 3000 gallons
Typical cistern materials: Polyethylene and Galvanized Metal
List system amenities here
List system limits as well
$6,500 to $10,000
Large Irrigation (Pressurized)
$10,000 to $20,000
Large Irrigation (Pressurized) & Small Potable Systems
Residential Installation FAQ
Do you charge for an estimate?
We do not charge for estimates if you are in the Austin area (defined as a 40 mile "travel" distance, mapped from our office). Outside of this distance, we charge a small travel fee depending on the distance away from our office, which you can inquire about when you call our office. This fee is rebated back to you if you do decide to contract with us though.
While we love having the opportunity to present a quote for our services to you, we have to be realistic and understand that we only have some much time in a day. We have a passion for educating people about the systems we install. Especially if you are thinking about a rainwater harvesting system, our consultation is essentially an educational session where we walk you through all of the various options for you and what an optimized and cost-effective rainwater harvesting system would look like. But it takes time to do this.  Pair this with traveling far from our office and you can see where we need to charge a small travel fee.
If you are located far away from our office and you don't have other local rainwater harvesting contractors to contact, you can certainly email us any house plans, site pictures, etc, and we can create a "site unseen" estimate for you. This will help determine if the project is within your budget range or if some design changes need to be made in order to facilitate a more efficient and cost effective system.
How soon can you get to my project?
We pride ourselves on providing great customer service and great services that solve your problems.  We are fortunate to have a healthy construction schedule due to our customers trusting us to solve for their water conservation needs or their stormwater management issues.  We have been running between a 45 to 90 day backlog for a few years now, depending on the time of year.
While we try to get to every project as quick as we can, we want to spend the appropriate amount of time on each and every project to make sure it's done right.  You want this on your project just like all our other customers.  The best thing to do is to contract with us as soon as you can after receiving your estimate for the work.  This will lock your place in on our schedule.  Upon contracting, we will provide you with a tentative start date for your project so that everyone can be on the same page and know what to expect.
Do you warranty your systems?
Absolutely!  We provide a 12 month workmanship warranty on all systems we install.  This means that if there is something that doesn't function correctly within the system within the first 12 months after job completion or system commissioning, then we will come back out, at no charge to you, to fix the issue.
Any material or equipment warranties convey to you at the time of job completion or system commissioning.  If a piece of equipment fails during its warranty period, no matter if it happens during our 12 month workmanship warranty period or afterwards, we will only charge a service call fee but the piece of equipment will be replaced at no charge to you.
On our drainage systems, there is nothing like a big rain event to test our work.  Sometimes there are small tweaks that have to be made after the initial installation due to new information about the flow of stormwater through the system.  If the changes are required to ensure the remedy of the originally stated drainage problem, then we will come out and make the necessary changes at no charge to you.  If another drainage issue has come to light that was not part of the originally stated problem, then an additional charge will be assessed if you want us to correct the new issue.
Do I need a city permit for a rainwater harvesting system?
Only rainwater harvesting systems that use a pump to use the rainwater out of the cistern is required to obtain an auxiliary water permit from the City of Austin.  Therefore, if you are installing a rainwater harvesting system without a pump, then you don't have to worry about a permit.
In addition, if you are installing a pump on the system, you will be required to install a special backflow prevention device called a Reduced Pressure Zone (RPZ) backflow prevention device at your water meter.
But now you may be asking, "I won't be connecting my pressurized rainwater harvesting system to any municipal water pipes.  Why do I still need to install this RPZ backflow prevention device?".  The simple answer is that your pressurized rainwater harvesting system has the "potential" to push untreated rainwater back into the municipal water grid just due the presence of the pump if a pressurized rainwater pipe somehow becomes connected to your house's plumbing system.  The pump can produce higher pressures than the municipal water pressure at your house, therefore pushing rainwater into the municipal water grid.
If you are not in the City of Austin, you definitely want to check with your municipality as they may have different permit requirements.
Are there rainwater collection system rebates available?
For people living in central Texas, many cities in that area offer rainwater harvesting system rebates. The cities of Austin, San Marcos, Sunset Valley, and Round Rock all offer rebates with Austin and San Marcos offering rebates up to $5000. Learn more about central Texas rainwater rebates.
How large of a cistern should I install?
The simple answer is… as large of a cistern that your budget allows. In central Texas, rainfall is feast or famine, so a larger cistern helps to capture more rainwater during the "feast" times of the year so that you can use it during the "famine" times.
Do I need a pump for a rainwater system?
While you certainly can use the rainwater from the cistern by gravity through a hose bibb, a pump system can provide the flexibility to be able to use the rainwater far away from the cistern or into an irrigation system.
How loud is a pump on a rainwater collection system?
There are two types of pumps: centrifugal and submersible.
Centrifugal pumps are installed outside of the rainwater catchment cistern, typically inside of some sort of pump enclosure.  While a pump motor can be loud, typical centrifugal pumps have a low noise level.  In addition, if the pump is installed inside a pump enclosure, the enclosure can help to deaden the noise from the pump
Submersible pumps are installed inside of the rainwater collection cistern.  Obviously for this type of pump, the noise volume is very low since the rainwater and the cistern will deaden the noise from the pump.
For a more in-depth, detailed answer, go to our FAQ blog post.
Rainwater Collection Calculator
Rainwater catchment systems for irrigation use
We specialize in custom, individualized rainwater harvesting systems that allow you to collect the most rainwater which in turn, conserves municipal water use and saves you money on your water bill. We believe that rainwater harvesting systems are the next frontier in water conservation gains for urban households. Not only are rainwater harvesting systems great for water conservation but they can also aid in solving drainage issues around your house.
While we do focus on custom systems, we have created packaged rainwater harvesting system kits from 500 to 2500 gallons that have set pricing.  These kits are set up in KIT versions (for the DIYer) and BUILD versions (we install the kit for you).  If you have a certain budget for your system, these kits may be perfect for you.
If you are ready to install a rainwater collection system for irrigation or other non-potable uses, call us at 512-490-0932 or request a onsite consultation.
Rainwater collection systems for potable, drinking water
Are you building a new house in an area where you have no access to municipal water? Think you need to drill a water well?  Think again.
We install rainwater harvesting systems that can supply your whole household with potable water. Don't take a chance with drilling a well and the quality of the well water you could get.
Rainwater is a high quality, naturally soft, water source that needs minimal treatment. Why fool with water softeners, aeration tanks, or ion exchange systems that you may need to make well water drinkable. Get off the grid with a rainwater harvesting system.
Reliability? We always size your system to provide adequate water even through low rainfall periods, but remember, we can't make it rain, so there may be times when you need water delivered to you. You always have the opportunity to fill your cistern with hauled water. There are many water haulers in the hill country and we will provide a list to you.
If you currently have a well that you are concerned about going dry or fed up with the water quality from the well, consider adding a rainwater harvesting system as another potable water source. We can create a hybrid system for you that will allow use of both well water and rainwater in your household. Watch out though, once you taste rainwater, you will never want to go back to your well water.