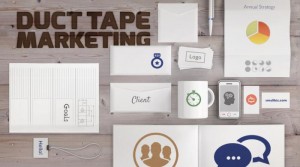 I am not one to call into radio stations or enter contests to try to win a prize but now I know what it must feel like to do it and win. Earlier this month I submitted an entry to be part of an in-studio audience for a small business marketing workshop led by John Jantsch of Ducttapemarketing.com. And I was picked!!
I want to tell you more about how I came about applying for the opportunity but first here's the important information about the workshop. This is important since this workshop is free to view online during the event.
The workshop starts June 26th at 9am PST. It is a 3 day course so it will be packed with great information. I am so excited about the opportunity to be there live for the event but I also want you to be there live (and to see me, starring on the Internet). So click here to register on CreativeLive and then add the workshop to your course list.
The Small Business Marketing Workshop
To save some time, here is the wonderfully written workshop description from the CreativeLive website:
"Join consultant and bestselling author of Duct Tape Marketing John Jantsch to learn how to create an easy-to-follow marketing blueprint tailored to your small business's needs. This three-day course takes the mystery and guesswork out of connecting to clients, translating leads into sales, and communicating the value of your company."

"Behind every strong small business is a strong marketing system, but many business owners lack the resources and skills required to build a marketing plan that makes their business stand out in the crowd."
"John will cover building a marketing system, creating a framework for company growth, and building your company's online presence. From spotting ideal clients to using social media strategically to gauging the effectiveness of your marketing choices, this course will give you the tools you need to feel confident implementing a marketing plan unique to your company's needs and goals."
"If you want a strong foundation in these essential tools, John Jantsch and this three-day course will give you a practical, proven approach to creating and implementing the marketing plan your small business needs to succeed."
By the way, what is CreativeLive?
CreativeLive is an amazing website that I found out about last year some time. I started to watch (actually just listen to the workshop in the background as I work on my computer) to many of their various workshops since you can watch their workshops for free while the event is going on. It is an amazing value and you have the opportunity to purchase the video workshop during the event for a relatively low price, normally $99, if you want to review the workshop in the future.
How I got to be part of the audience?
So my story… I was up very, very late one night since it seems like this is the only time I can get a lot of stuff done at my house. My wife and I have 13 month old twin boys and let me tell you, they are a handful. It is not until they are asleep at night that I can have an uninterrupted time to work on my projects.
I was perusing my RSS reader and saw a post from John's blog that asked for people to fill in an online form if they wanted to be considered for one of the eight in-studio audience spots available for this workshop. On a whim, I decided to fill out the form… remember, I am not one to do this type of stuff.
A few weeks later, I received an email inviting me to be part of the audience. I agreed immediately and booked my flight to San Francisco. I hope to learn a ton of stuff about small business marketing that will help propel Innovative Water Solutions forward.
More about John Jantsch
I started reading John's blog at www.ducttapemarketing.com a few years ago as part of my RSS parade of "18 million" (seems like it) small business blogs that I follow. John always provides very solid and actionable content on his blog.
I recommend subscribing to his small business marketing blog or signing up for his free weekly marketing e-newsletter.
John Jantsch is a marketing consultant, speaker and best-selling author Duct Tape Marketing, The Commitment Engine and The Referral Engine. He is the creator of the Duct Tape Marketing System and Duct Tape Marketing Consulting Network that trains and licenses small business marketing consultants around the world.
His blog was chosen as a Forbes favorite for marketing and small business and his podcast, a top ten marketing show on iTunes, was called a "must listen" by Fast Company magazine.
His practical take on small business is often cited as a resource in publications such as the Wall St. Journal, New York Times, and CNNMoney.
So join me June 26-28th and learn some great information about small business marketing.