Providing absolute solutions to your drainage problems
Peace of mind… that's what you want… knowing that your house and property is safe from water damage during storm events. Our mission is to provide this peace of mind by diagnosing your drainage problem correctly and executing a high-quality solution.
No matter if your drainage problem is a recent development or if it has been a reoccurring situation, we strive to provide an absolute solution. We have seen it time and time again… you can pay other contractors for "band-aids" or you can pay us and have the problem professionally addressed once and for all.
It really comes down to our two-fold process of Diagnosis and Execution.
Proper diagnosis requires expertise and situational experience.
Proper execution requires staff training and high internal standards.  Most drainage system technologies don't have building codes that dictate how they should be installed.  Therefore, it takes experts to know how to implement the drainage solutions correctly.
We design systems throughout Texas but our installation services are focused in the central Texas area around Austin which includes Dripping Springs, Buda, Kyle, Wimberley, Blanco, Marble Falls, San Marcos, Round Rock, Georgetown,  and Pflugerville.
Trust the company that has (nearly) seen it all…
Drainage Solutions Installed Since 2010:
262 Projects
Residential Installation FAQ
Do you charge for an estimate?
We do not charge for estimates if you are in the Austin area (defined as a 40 mile "travel" distance, mapped from our office). Outside of this distance, we charge a small travel fee depending on the distance away from our office, which you can inquire about when you call our office.
While we love having the opportunity to present a quote for our services to you, we have to be realistic and understand that we only have some much time in a day. We have a passion for educating people about the systems we install. Especially if you are thinking about a rainwater harvesting system, our consultation is essentially an educational session where we walk you through all of the various options for you and what an optimized and cost-effective rainwater harvesting system would look like. But it takes time to do this.  Pair this with traveling far from our office and you can see where we need to charge a small travel fee.
If you are located far away from our office and you don't have other local rainwater harvesting contractors to contact, you can certainly email us any house plans, site pictures, etc, and we can create a "site unseen" estimate for you. This will help determine if the project is within your budget range or if some design changes need to be made in order to facilitate a more efficient and cost effective system.
How soon can you get to my project?
We pride ourselves on providing great customer service and great services that solve your problems.  We are fortunate to have a healthy construction schedule due to our customers trusting us to solve for their water conservation needs or their stormwater management issues.  We have been running between a 45 to 90 day backlog for a few years now, depending on the time of year.
While we try to get to every project as quick as we can, we want to spend the appropriate amount of time on each and every project to make sure it's done right.  You want this on your project just like all our other customers.  The best thing to do is to contract with us as soon as you can after receiving your estimate for the work.  This will lock your place in on our schedule.  Upon contracting, we will provide you with a tentative start date for your project so that everyone can be on the same page and know what to expect.
Do you warranty your systems?
Absolutely!  We provide a 12 month workmanship warranty on all systems we install.  This means that if there is something that doesn't function correctly within the system within the first 12 months after job completion or system commissioning, then we will come back out, at no charge to you, to fix the issue.
Any material or equipment warranties convey to you at the time of job completion or system commissioning.  If a piece of equipment fails during its warranty period, no matter if it happens during our 12 month workmanship warranty period or afterwards, we will only charge a service call fee but the piece of equipment will be replaced at no charge to you.
On our drainage systems, there is nothing like a big rain event to test our work.  Sometimes there are small tweaks that have to be made after the initial installation due to new information about the flow of stormwater through the system.  If the changes are required to ensure the remedy of the originally stated drainage problem, then we will come out and make the necessary changes at no charge to you.  If another drainage issue has come to light that was not part of the originally stated problem, then an additional charge will be assessed if you want us to correct the new issue.
Do I need a city permit for a drainage system?
In most cases, you don't need a permit from the city for drainage work on your property.  If the work involves changing any structure on your property or involve any electrical work to install a sump pump, then a permit may be necessary.  We will take care of any permitting needs if required for the implementation of the best solution for your drainage issue.
My house flooded. Can you evacuate the water from my house?
We are not a water restoration company that can come at a moment's notice to remove water from your house. We are a company that can correct the issue if a drainage issue caused your house flooding. While we want to correct it as soon as possible for you, we do typically have a healthy construction schedule so the best advice is to contract with us soon after receiving our estimate so that your project can get locked in on our construction schedule.
I need to fix my problem but I have a limited budget. What can I do?
In some cases, we may be able to implement a "phased" solution for you. While we want to present an absolute solution and installation estimate to you, we do understand that we all have budgets. It could be possible to break up the solution especially if there are multiple systems involved in the complete solution for you. This is also a way to make sure you are spending an optimized amount for your drainage work. In some cases, it can be difficult to seeing all of the issues that are creating the exact drainage problem. A phased strategy allows us to implement one portion and see how much of an effect it has on solving the entire problem.
Beware of the "French Drain contractor"
Don't be fooled by contractors who say, "You just need a French Drain… it will solve all your problems".  We hear this so much.  It's as if they think French Drains are a magic bullet or maybe they are just trying to sound more educated by using a term you may not understand.
Most situations aren't helped by a French Drain and even if it is, the installation method has to be correct (which it is not most of the time).
We have witnessed 100's of properties in Austin where homeowners have paid a "drainage contractor" to implement a drainage solution which just hasn't worked.  Don't make the mistake of hiring an inexperienced contractor to fix your drainage problems and end of paying twice to fix the same problem.
After contacting us, we will schedule an onsite consultation at your home with one of our experienced estimators. At the consultation, we will discuss the following:
Description of the exact issue
Occurrence interval of the issue
Identification of potential property damage
Potential drainage solutions
Much, much more
For residential drainage systems, we typically "design" the solutions as we are formulating the estimate for your installation.  Our estimate documents include:
Complete description of prescribed solution
Work phasing opportunities (if situation allows for them)
Complete transparency of costs
Drainage system images
List of References
If the estimated cost and system design is right for you, then we will send you a contract for the installation work.  At this point, the following items will occur:
Schedule your project onto job board
Introduce you to our construction manager
System plan document created
Pre-construction meeting so everyone is on the same page
Document any requested changes
At this point, our experienced crew will install the solution as designed. Then, we will provide a walk-through to discuss operation and maintenance needs. We pledge the following:
Clean up the jobsite each day
Our crew members will be well‐trained, courteous, and dress cleanly
Ensure that you are happy with the final product
We will be there for any future needs
What are the typical costs for drainage improvements?
Since each property and the factors creating the drainage problem are different, it is difficult to put a typical cost on a drainage solution.  This means that a similar type of drainage system could vary greatly in cost when installed on different properties.
We focus on pricing drainage systems that completely solve your problem.  In order to provide some sort of cost estimate for you, our current average residential drainage contract is around $4500 with a cost range of $1,500 to $15,000. Your solution may less expensive but it could be more expensive but I want to make sure that you know the type of work we do and the quality of work that we perform.  We don't cut corners and we stand behind our work.
If you don't know the severity of your problem, we have a drainage inspection report service that will allow us to come out to your property, assess the issues, and provide you with a plan of action with system specifications and a cost estimate from us. If you contract with us to perform the required work, then we will deduct the fee for the drainage inspection report from your contract.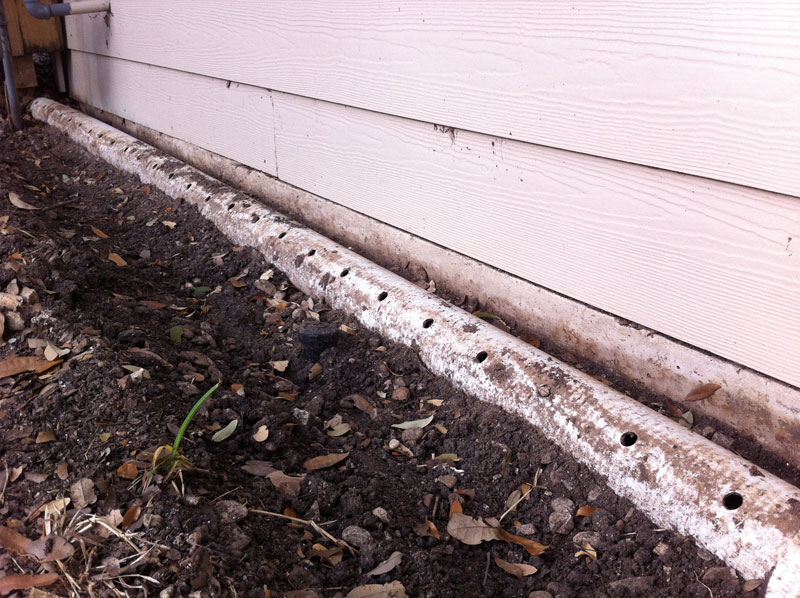 If you are looking for a cheap, band-aid solution to your drainage problem, there are plenty of other contractors out there that you can call. We say this because your time is precious just like ours. We want to make sure that we are the right fit for you and within your budget.
The benefits of using a licensed professional
We work with clients who want the job done right.  While we provide competitive estimates, our services are probably going to cost more than other less experienced, less qualified contractors.
But here's why…
They are probably suggesting a fix that is simple (thus cheap) but in the end, won't solve your problem.  We have seen so many instances where other contractors were proposing something completely wrong for the situation and the problem.
There are so many details that other contractors gloss over or don't even consider.  Then they end up cutting corners to make sure they make some profit on the jobs.  Drainage solutions are too important to have a contractor cut corners.
You won't find any subcontractor doing our drainage projects.  Our employees who are trained in proper drainage system installation techniques and method do the work.  We don't "sell" the job and hand it over to another contractor to install.  We are the company that assesses the problem, designs the best solution, and installs the work… the way it should be.
They are probably using corrugated poly pipe rather than PVC pipe.  There is nothing inherently wrong with corrugated poly pipe but it has its limitations.  We use only PVC pipe in our drainage work because we want the pipes to stand the test of time especially being buried and "out of sight".
If a swale or berm is proposed, they may not be bidding in a cover material such as grass or rock.  They leave that out of the bid to make their bid look more attractive, requiring you to deal with the final aesthetics.
We provide CAD drawn as-built drawings to you so that you can know where any underground infrastructure is installed on your property.
We stand behind our solutions and our work.  So if there are issues that arise related to the original problem, we will fix it.
We Are…
A locally owned and operated business since 2004
A contractor that is also a licensed engineering firm
A professional, detail oriented company that has a high internal standards for installation quality
A company with a healthy project schedule because customers need our solutions
We Are NOT…
A contractor that provides a quick fix for your drainage issues
A guy with a truck and some tools
A water restoration company that can come at a moment's notice.  We are a company that can correct the issue that caused the flooding damage.  While we want to correct it as soon as possible for you, we do typically have a healthy construction schedule that we are working with.