Rainwater Harvesting Systems
Simply Put, Rainwater Harvesting Is About Our Future…
Even though the practice of rainwater harvesting originated in ancient times, it is still a valuable practice that can provide many benefits in our modern times. A rainwater harvesting system collects rainfall from impervious surfaces to be stored and used later, typically on the site where it was collected. This provides many benefits and opportunities for water conservation and for sustainability.
A rainwater collection system can be used to supply water for irrigation and/or potable use. In urban areas, rainwater is typically collected to supplement irrigation needs but in rural areas, rainwater is typically collected to supply the whole household with drinking water. Rainwater harvesting systems are also being used increasingly for stormwater management purposes as a green infrastructure or low impact development technique.
Any contractor can put a downspout into the top of a cistern and call it a rainwater collection system. We believe a rainwater collection system is defined by the details. Rainwater collection systems should NOT become dysfunctional, maintenance hogs, or eyesores. We provide systems that are designed with function, sustainability, and aesthetics in mind. Therefore, quality, both in materials and in workmanship, is paramount to us.
We provide a full suite of services for rainwater harvesting systems, depending on your exact need or phase of development. We are rainwater system engineers that offer system design but we are also "rainwater system general contractors". Our customized systems can involve coordinating many different contractors depending on the type and extent of your rainwater harvesting system design. Therefore, from design to installation, we can take care of everything.
How much rainwater could I collect?
While this will provide a general rainwater collection potential for your home or building, you will receive a detailed collection analysis with your estimate from us.
Our rainwater harvesting services.  How may we best serve you?
Our rainwater harvesting services.  How may we best serve you?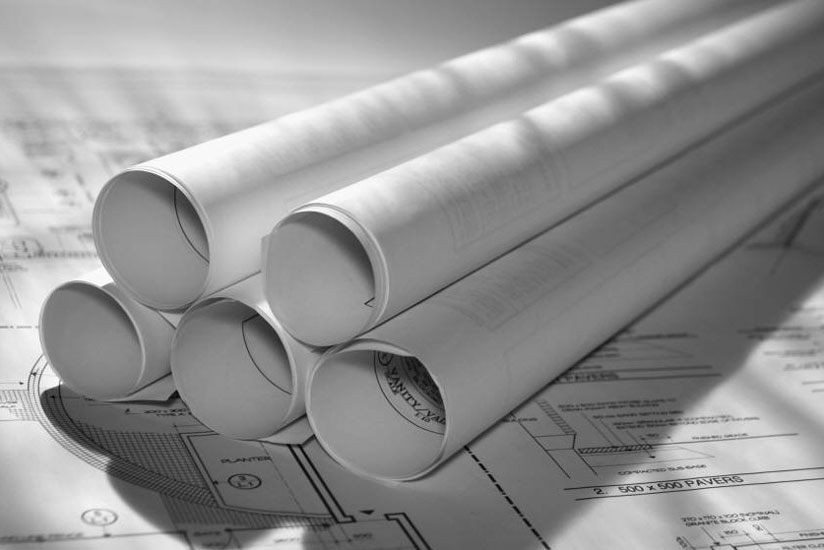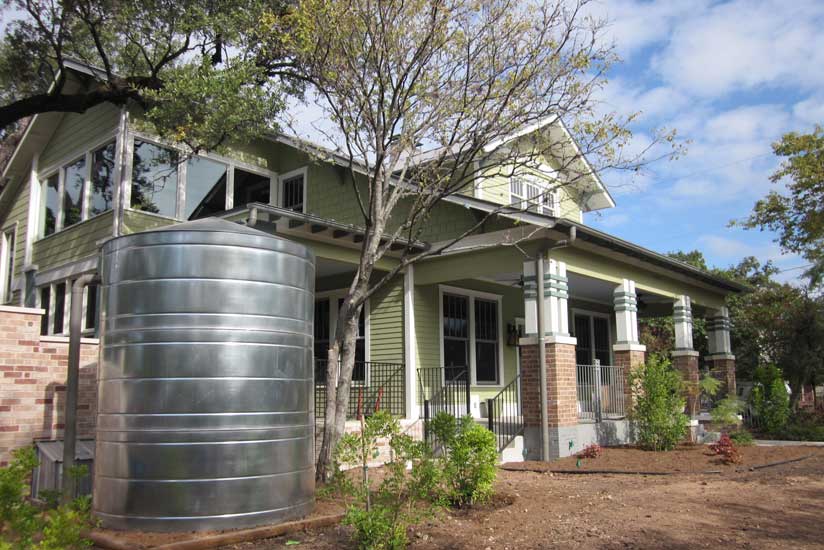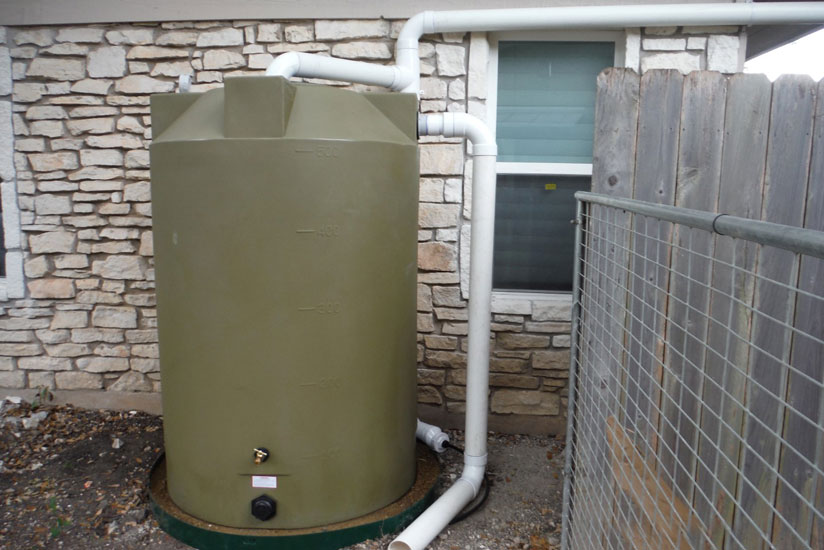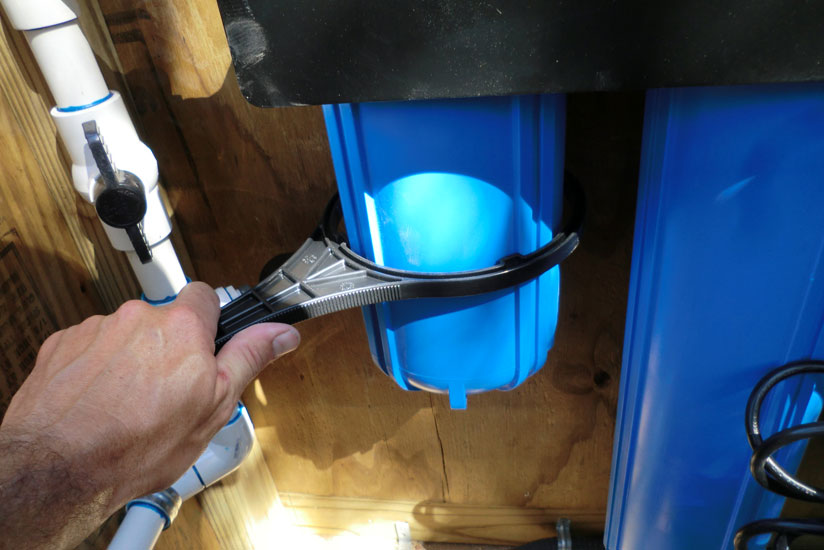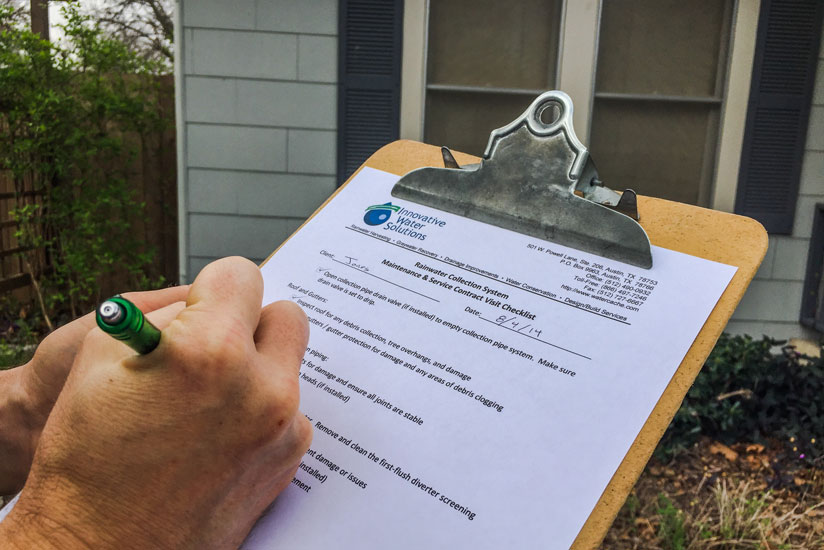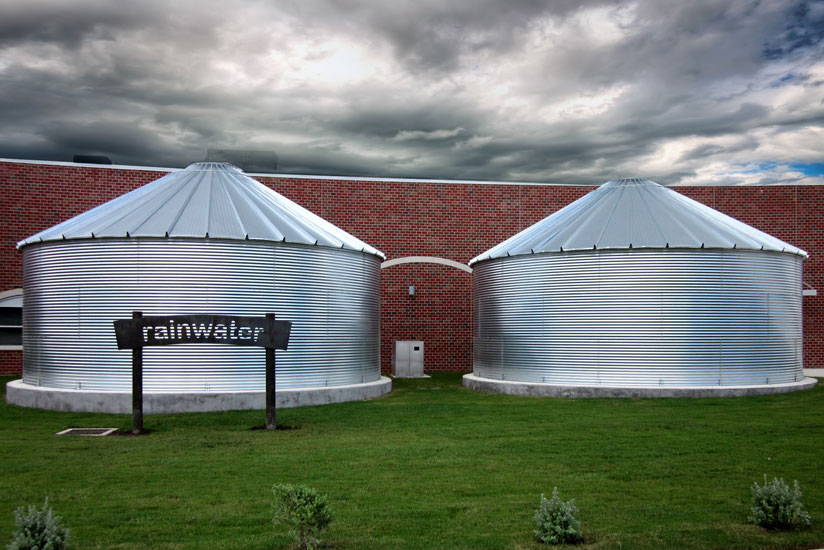 Why should I harvest rain?
Rainwater is essentially FREE; once the capital cost of the collection system infrastructure is paid for, you will harvest free water.
Rainwater harvesting is socially acceptable and environmentally responsible since it promotes self-sufficiency and helps conserve water.
Rainwater harvesting reduces your municipal water consumption and thus your water bill.
Rainwater can be used as a main source of water or as a back-up source to wells and municipal water. It can also be very helpful in times of emergencies.
Rainwater harvesting can allow you to have total control over your water supply (ideal for cities with water restrictions).
Rainwater harvesting systems can be easily retrofitted to an existing structure or built during new home construction. They are very flexible and modular in nature, allowing expansion, reconfiguration, or relocation.
Rainwater is the best water source for landscape irrigation due to the lack of chlorine and other treatment chemicals.
Rainwater harvesting reduces the frequency and intensity of flooding around your house or property.
Since the use of the harvested water is located close to the collection source, this reduces the energy use required to move water around our cities.
Rainwater harvesting can reduce stormwater pollution, lessening its impact on our local watersheds.
Rainwater harvesting will play a vital role in the future of our local water resources
We all know the importance of water. It is the lifeblood of our communities. It is the basis for our lifestyle and our community's economic well-being. But we also know that our local water resources are constantly being threatened by population growth, drought, and pollution.
We know that you care about our environment and want to be good stewards of our precious water resources. We know that you want to conserve water and be part of the solution. We can help you do just that with a rainwater harvesting system. Rainwater harvesting is an important opportunity that we can't ignore anymore.
Think about it… you have all that free rainwater falling on your roof that is just running off your roof and property, where it eventually runs downstream, past our community. You are missing out on the potential benefit of all this rainwater. With a simple rainwater harvesting system you can capture this rainwater and store it to use later.
Rainwater harvesting systems are investments in our collective future. Once installed, they can produce a return on investment for years, if not decades. By not investing in a rainwater collection system now, you essentially delay this ROI, all the while, installation costs increase every year as does the cost of water.
Rainwater collection system for irrigation use
We believe that rainwater harvesting systems are the next frontier in water conservation gains for urban households. We have installed rainwater harvesting systems in urban areas for irrigation purposes, as a solution to drainage issues, and as a backup water source.
Some people install urban rainwater harvesting systems because they have found that rain barrels just don't hold enough water. As an added benefit to having free water to irrigate your landscape with, you can solve some drainage problems that you may be having on your property.
There is a tremendous amount of design variations in all of the systems that we install. We work with you to create a system that is attractive while fitting your needs and your budget.
Download our brochure about rainwater harvesting systems for irrigation use
Rainwater collection system for potable, drinking water
We install rainwater harvesting systems to supply your whole household with potable water. If you are building a new house in an area where you have no access to municipal water, consider installing a rainwater collection system to supply your household water needs. Don't take a chance with drilling a well and the quality of the well water you could get.
Rainwater is a high quality, naturally soft, water source that needs minimal treatment. Why fool with water softeners, aeration tanks, or ion exchange systems that you may need to make well water drinkable. Get off the grid with a rainwater harvesting system.
Reliability? We always size your system to provide adequate water even through low rainfall periods, but remember, we can't make it rain, so there may be times when you need water delivered to you. You always have the opportunity to fill your cistern with hauled water. There are many water haulers in the hill country.
If you currently have a well that you are concerned about going dry or fed up with the water quality from the well, consider adding a rainwater harvesting system as another water source. We can create a hybrid system for you that will allow use of both well water and rainwater in your household. Watch out though, once you taste rainwater, you will never want to go back to your well water.
Download our brochure about rainwater collection systems for potable use
Rainwater harvesting system incentives in central Texas
Listed below are some of the local incentives to promote rainwater harvesting. These offers are available to residents of the respective cities or counties.
If you qualify for any of the rebates listed above, we will provide you with all of the necessary documentation for the rebate program.
Other Incentives
Green building rating systems are becoming very popular. Several municipalities have green building programs which rate and classify homes based on a set of specified criteria. If you are building a new home and want to have it rated, you should definitely install a rainwater collection system. Check out these resources:
Want to learn more about rainwater harvesting?