Reducing your stress while producing a successful project
We have been providing commercial rainwater harvesting system construction services since 2007.  Our main goal is to alleviate any and all confusion that may surround the rainwater harvesting system on a commercial project.  Many times, these rainwater collection systems don't have the same design detail as the other mechanical systems in the building.  Since IWS is also an engineering design firm, we provide this experience to fill in the gaps in a commercial rainwater harvesting system in the hopes of ensuring the completion of the system according to its design intent.
Commercial rainwater harvesting systems often fall into a gray area between many traditional trade contractors on commercial projects.  Should the site or utility contractor install the system?  What about the plumbing subcontractor?  How about the irrigation subcontractor?  While a rainwater harvesting system can have parts and pieces that fall into these traditional trade contractors, who should be tasked with ensuring the complete system is installed and works as intended?  Most of the time, these subcontractors don't have the necessary experience to complete the entire system.
Therefore, we are here to fill in the gray area and connect the various trades by providing complete installation services for the rainwater harvesting system.  We provide construction services for projects throughout Texas.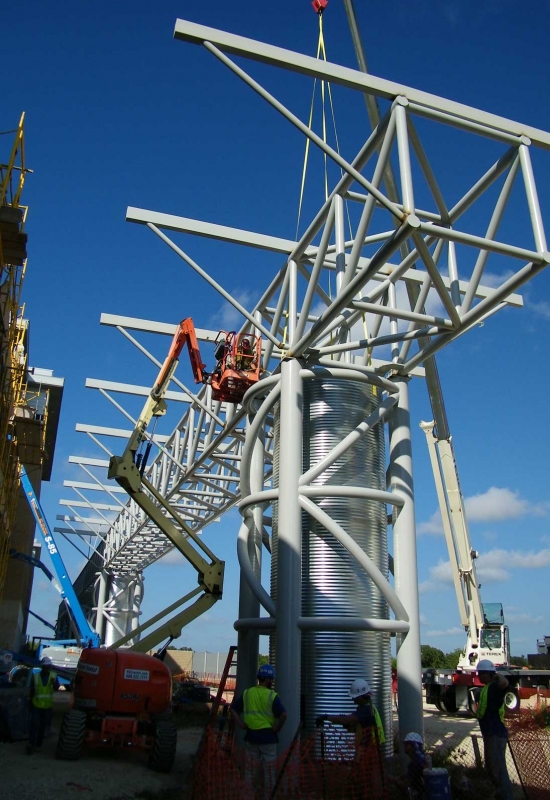 The importance of a single source contractor
Rainwater harvesting systems are just that… "systems". Problems arise when they are seen as disparate parts rather than a whole. When those different parts don't work together, where does the system functionality liability fall to?
Maybe you are able to reduce your bid by lumping the various parts and pieces of a rainwater collection system into the work scopes of your existing subcontractors?  But in the end, is it worth taking on the liability of the system functionality?
Additionally, dealing with multiple subcontractors on a commercial jobsite can be downright stressful.  Now think about dealing with multiple subs, trying to get all of them to implement a cohesive rainwater harvesting system, that may or may not have a cohesive system design?
Alleviate the stress and worry by contracting with Innovative Water Solutions to implement all parts of a commercial rainwater harvesting system.  These systems have principles that aren't typically dealt with on every commercial project.  Why make assumptions on whether your subs are doing the things they need to be doing at the beginning of the project for the eventual operation of a rainwater harvesting system?
We installed our first commercial rainwater harvesting system in 2006.  Along the way, we have learned what needs to be done when it needs to be done on commercial rainwater harvesting system installations.
We Are…
A locally owned and operated business since 2004
A contractor that is also a licensed engineering firm
A professional, detail oriented company that has a high internal standards for installation quality
A fully insured contractor with general liability, umbrella, auto, and workers' compensation insurance
A company with a healthy project schedule because customers need our solutions
We Are NOT…
Gutter installers who happen to have installed a few rain barrels over the years
A guy with a truck and some tools
Landscapers who have "worked on a few projects where another contractor was installing the rainwater system" and now we know how to do it
A residential contractor who believes commercial projects are just "larger versions of their residential systems"
Click the IWS icons on the map to see details about each commercial project
Rainwater catchment systems for commercial projects
We specialize in custom, individualized rainwater harvesting systems that allow you to collect the most rainwater which in turn, conserves municipal water use and reduces operating cost for your project. We believe that rainwater harvesting systems are the next frontier in water conservation gains for commercial properties. Not only are rainwater harvesting systems great for water conservation but they can also aid in managing stormwater issues on your project site.
If you are ready to get a bid for a rainwater collection system for irrigation or other non-potable uses, call us at 512-490-0932 or request a onsite consultation.